PUBLICATIONS (as composer and arranger):
ANNA-MARI KÄHÄRÄN ORKESTERI 2004 / EMI (composition)
STOLEN MOMENTS , How Many Sisters, 2002 Proprius (compositions and arrangements)
THANK YOU FOR THE KISS 2005 / ROCKADILLO (composition)
IKÄVÄ OMIA MAITA How Many Sisters, Tapiola Sinfonietta, led by Kirmo Lintinen.
Compositions by Kähärä and Lintinen.
FOLK TRIP 2002 Pekka Kuusisto and Luomu Players
ORDER MUSIC:  info (at) digelius . com
Anna-Mari Kähärän Orkesteri
2005 EMI Blue Note 7243 873846 2 0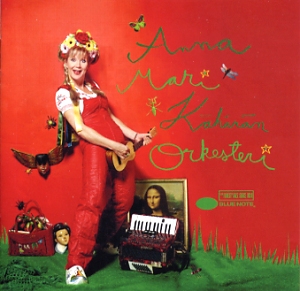 Cover photos and design: Tanja Ahola.
1.Requiem
2.A Lynmouth widow
3.I hear drums
4.Love is in your heart
5.Dead love
6.War
7.So this is love
Kaikki sävellykset: All music composed by: Anna-Mari Kähärä.
Anna-Mari Kähärä (voc, keyb, acc, clockwork, claviola), Pekka Kuusisto (v, mand, voc), Marzi Nyman (g, keyb, voc), Zarkus Poussa (perc, voc), Jarmo Saari (g, b, lap steel, tb, theremin, keyb, voc)
+ 4, 5: Tuure Koski (b)
+ 4, 5: Kirmo Lintinen (keyb)
+ 4,5: Tomi Salesvuo (dr, perc)
+ 3: Tomi Salesvuo (steel drum)
Tuottajat: Produced by: Anna-Mari Kähärä, Jarmo Saari, Juha Heininen
Vastaavat tuottajat: J-P Virtanen, Timo Kuisma
Äänitys: Recorded by: Juha Heininen, Hip-Studiot, Helsinki 2004-2005 + 4, 5: rytmisektion äänitys: Ahti Vänttinen
Miksaus: Mixed by: Juha Heininen, Anna-Mari Kähärä, Jarmo Saari
Masterointi: Mastered by: Pauli Saastamoinen
***
Ikävä omia maita
(M&SW Oy 2012; MSW002)
How Many Sisters, Kirmo Lintinen, Tapiola Sinfonietta



1. Ikävä omia maita
2. Onpa tietty tietyssäni
3. Laulu perunoiden kiehuessa
4. Samsara
5. Joikhu
6. Danza rusticana (feat. Pekka Kuusisto, viulu)
7. En mä tullut niinkuin ennen
8. Kuka nukkuu tuutussasi
9. Jälkeenpäin
10. Tango Lumpero
11. Canzone
12. Musica per amici
13. Uinu untuvainen
14. Nälkämaan laulu
Bonus
15. Vääränlainen mies
ORDER MUSIC:  info (at) digelius . com